Sleeping at last
Jag älskar när man finner ny musik som man bara älskar. Jag har lyssnat på turning page innan av sleeping at last, men aldrig gått in och lyssna på andra låter. Dem är så himla bra. Lyssna!
---
Alt-J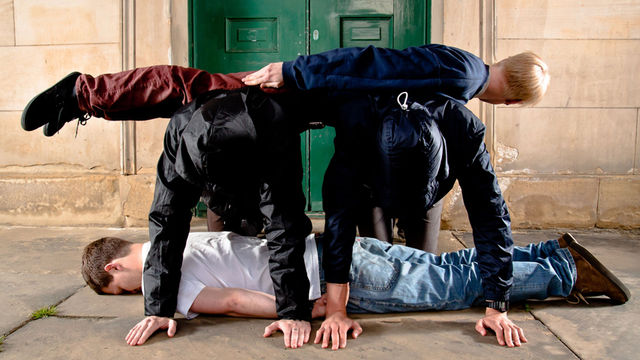 google
Alt-J - Ms går på repeat just nu. Väldigt annorlunda låt, men faller mig helt i smaken. 
---
101 låtar du måste höra innan du dör
Lost - coldplay
Sweet disposition - the temper trap
Colorblind
You found me - the fray
Mr brightside - the killers
fix you - coldplay
this world - selah sue
somebody that i used to know - gotye
sail - awolation
paper planer - mia
animal - miike snow
home - edward sharpe
heartbeat - chase and status (remix)
naive - the kooks
it takes a fool to remain sane - the ark
heroes - david bowie
last request - paolo nutini
100 years - five for fighting
love is my drug - john me
paris - john me
numd - linkin park
highway man - hoffmaestro
with or without you - u2
under pressure - queen/ david bowie
life on mars - david bowie
so high - john legend
if i used to love you - daniel lemma
anything can happen - daniel lemma
follow through - gavin degraw
fler låtar kommer när jag orkar. hehe
---
mumford & sons


Inte lyssnat på de innan men de var ju lite mysiga ändå! får vår/sommar 10 feeling... saknar den tiden, mumma!



---
Glastonbury festival
Eh, jag ska hit???
Hehe, dock är nästa i juni 2013, men jag kommer vara där som fan. Alltså de har den sjukaste line upen du kan tänka dig. Bara cold war kids, coldplay, u2, white lies, beyonce mfl. det är bara sjukt!! Juste kanske ett litet plus, en "liten" artist är jessie j, du ser knappt henne i line upen. jag dör. (alltså. detta är inte line upen för 2013, men den säger ändå ganska mycket om hur grym den här festiveln nog ääääär!!).
---
Cyndi Lauper
weheartit.com
Alltså man kan ju inget annat än att älskar cyndi lauper. Jag vet faktiskt inte varför men alla hennes låtar känns så sentimentala, och det är ju inte riktigt så att man alltid har lyssnat på dem haha. Men hon har faktiskt några riktiga godbitar, haha. 
♥

Girls just wanna have fun

True colors

Time after time
---
♥
John Legend - stay with you
---
Sweet disposition


Oj oj oj vad den här låten är fin. Jag kanske har skrivit om den innan, en favorit sedan länge. En sak som stör mig riktigt mycket är mena de söt disosition? alltså typ sinne? sött sinne? 

Sweet disposition - temper trap
---
Just breathe

PEARL JAM

ROCK WERCHTER 12
---
Justice




Ses i sommar Justice, hehe.
---
woodkid


Den och iron var bra! kollade på reklam där iron var musiken. brao!
---
Resten av ditt liv


Är riktigt sugen på att lyssna på timbuktu idag hehe. så just nu lyssnar jag på denhär ganska myckeeet! 
i morgon är det jobb, men bara tre timmar. sedan preppar inför i övermorgon wiho!
---
Örongodis?
---
Every teardrop is a waterfall
I turn the music up, I got my redords on
I shut the world outside until the lights come on
maybe the streets alight, maybe the teres are gone
I feel my heart start beating to my favourite song




älskade coldplay
---
.
Hang me up to dry - Cold war kids
♥
---
Light up
---
70's
Vill ha tips på bra gammal musik. Jag tycker det är den musiken som har kvalité. Jag älskar att lyssna på gamla låtar. Min morbror blev väldigt förvånad när vi hade en "musi quiz" igår på släktmiddagen och jag kunde 70-tals låtarna. 

Men som sagt, vill ha tipz. Mitt tips till er är sweet disposition. Helt klart bäst bland de 70-tals låtar jag känner till.
---
Sweet disposition
Klicka på hjärtat!
En av de bästa låtarna någonsin. Älskar hans ljusa röst. Dock gillar jag inte så många av deras låtar. Tänkte faktiskt sätta mig och göra en liten bra spellista på spotify som jag laddat ner igen. Lite gamla härliga hederliga låtar. Mums.
---
.
♥ 100 years - Five for fighting
♥ Come home - One republic
♥ Dockyard - Paul Kalkbrenner
♥ Sex on fire - King of Leon
♥ Honey and the moon - Jeseph Arthur
♥ Talking about a revolution - Tracy Chapman
♥ Hide and seek - Imogen heap
♥ Go your own way - Fleetwood mac

10 - för er som har spotify finns alla låtar listade här.
Anledningen till att min handstil blev som den blev var för att det inte var så enkelt att skriva baklänges.
---
100 years
---